Contact us with any questions or for a customized quote.
WHY CHOOSE DYNAM FOR YOUR NEW OFFICE PHONE SYSTEM?
Dynam Communications is a leading provider of office phone system solutions. This includes: On Premise Phone System and Hosted VoIP PBX solutions. The hosted phone system is sometimes referred to as a Cloud PBX or a Virtual PBX System.
Our PBX phone system for small business include features your company needs from a business phone system. These features service to maximize customer satisfaction and employee productivity. Whether you have five users or hundreds. Users in one office or spread around the country, we have a solution for you!
What is an Office Phone System?
A telephone company installs phone lines providing dial tone and phone numbers allowing you to make and receive phone calls. We connect these phone lines to your On Premise Phone System (PBX Phone System) providing advanced office phone system features.
Here's what happens with an incoming phone call. A call comes over your phone lines into your On Premise Phone System. The call is routed by PBX phone system to an individual, an Automated Attendant, or to a Call Group. An Auto attendant is what instructs a user to press 1 for this or press 2 for that. A Call Group is a group of users handling calls to a department (sales, service, or support).
The PBX phone system is the brain that routes your incoming calls to the right place. On Premise PBX phone systems today offer a variety of popular features. These features include call recording, faxing, music and messaging on hold. Other features can be desktop and mobile apps, instant messaging and SMS to customers, and many more.
More Features and Customization
You can also create customized call processing rules. You can create a rule to ring your desk phone. If no answer, forward to your mobile phone. If still no answer, send the call to the office voice mail. Then e-mail the voice message with a transcription. That is only one example of a custom call handling rule. This makes the Business Phone System a perfect solution for the large company to appear smaller and more personal. Also, a perfect solution to the small business to scale while maximizing productivity.
Types of Business Phone Systems
There are two types of business phone systems: On Premise Phone System and Hosted VoIP PBX system. The On Premise phone system is where a physical phone system is installed at your office.
The Hosted VoIP PBX solution is where only desk telephones are installed at your office. This solution is sometimes referred to as a Virtual PBX System or Cloud PBX. These phones register to the phone server in the cloud. The hosted solution is both your Phone System as well as your Phone Company.
Dynam Communications can offer both solutions depending on your communication strategy and budget. If you have many users or require a lot of customization; our On Premise PBX may be your best option.
If your primary concern is keeping costs low then you may wish to consider our Hosted VoIP PBX solution. With our cloud PBX, we are you phone system and your phone company. This means you can cancel your old phone service that just provides dial tone. Our Cloud PBX customers usually save as much as 65% from what they were spending for just dial tone.
ON-PREMISE TELEPHONE SYSTEM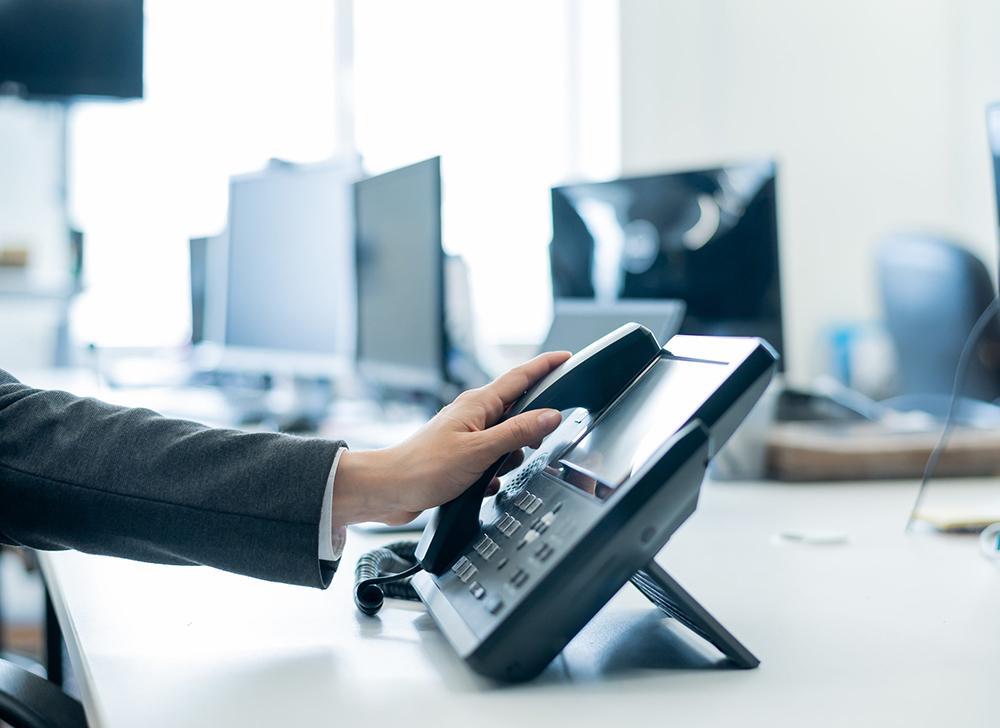 An On Premise Phone System is a business phone system physically installed at your office. Your office phones connect to your phone system and your phone system connects to your phone lines. This system provides the advanced features your customers expect and your employees need in order to be productive. Dynam Communications offers a variety of On Premise Phone system and PBX solutions based on features and users. Our award-winning PBX phone system for small business is perfect for the small company. Offering large enterprise solutions that can support up to 10,000 users.
Advantages:
You own the telephone system for life.
The phone system is under your control. Behind your firewall.
Advanced customization of features.
Related Articles:
What is an Business Phone System?
Important Things to know about Business Phone Systems
---
Rather than an On Premise PBX you might prefer our Hosted VoIP PBX, or Cloud PBX, telephone solution. With our Hosted VoIP PBX system, we install business phones at your office that connect to our Cloud phone server. Dynam Communications would be your business phone system and your phone company.
Advantages:
If you lose power or internet at your office, your callers can still call your phone numbers. During an outage, we can forward your calls to voice mail, answering service, or to a mobile phone.
Rather than a large upfront investment, the cost of service is a small monthly fee. Much less than what you are paying a phone company for just dial tone.
Free long distance. The whole country is a local call.
Related Articles:
How Helpful are Hosted Phone Systems?

Innovative Small Business Phone System Solutions
Our On Premise Phone system and Cloud PBX service can both be invaluable. Not just for the large company but also for the small business. A PBX Phone System for small business is critical for healthcare offices such as dental and medical offices.
Our medical clients, for example, appreciate how our solutions are HIPAA compliant. All of our customers benefit from these security features. They also like how all of their office locations are on the same same Hosted Phone System. When a customer calls, we ring the phones they want to ring at one or all their locations can ring.
We also have clients in a wide variety of industries. This includes restaurants, retail stores, accounting and insurance, law offices, and hospice companies. We have some clients with Pet Grooming services, construction, fitness, and real estate. Our client office sizes range from 1 user up to hundreds of users across multiple locations around the country.
The "No Brainer"
Phone companies like AT&T and others, only provide you with dial tone and phone numbers. Dynam charges about 65% less and provide not just the dial tone and phone numbers. But also business features such as faxing services, music on hold, call recording, automated attendants, call groups, and Instant Messaging. We allow your employees to work from home or any location just like they are sitting at your office.
We'll let AT&T continue to charge too much so they can continue to buy naming rights to sport stadiums. Purchase television networks like HBO and CNN. Buy downtown squares like AT&T Square in downtown Dallas. We'll keep our focus on providing the best & most affordable On Premise and Cloud PBX phone services in the country.
Testimonials
By Dave
Dynam has been a trusted partner with our business for over seven years now. The phone systems are amazing along with the support we receive from Dynam Communications. We have been so pleased with the service, product and follow up help over the last seven years.
By Kristi
We have used Dynam Communications for many years and have always had great results. Very responsive to our needs. I highly recommend Dynam Communications.
By Raymond
Dynam Communications has faithfully taken care of our telephone technology needs for many years. They respond quickly to calls, works well with our IT vendors, ISP suppliers, and SIP provider. They have helped us replace a legacy system, moved us to other locations with no disruption of service, coordinated disaster recovery plans and keeps us up to date in hardware, software and training. Thank you for providing exceptional service. We appreciate you.
Dads Garage
Dynam is an awesome company. Absolute expert with modern phone systems. Understands all the technical aspects including IT, firewall, SIP trunk, etc. Service is second to none. Any time we have an issue [Dynam] is right on it and stays on top of it until the issue is resolved. Even when the issue is created by IT or the SIP trunk provider. [Dynam] has never told me that is their problem. They stay on top of it and works with the other vendors until the issue is resolved. I could not more highly recommend someone.
SIP PHONES
Dynam Communications is compatible with all SIP Phones. If you have an analog phone that you would like to use, we can provide an adapter to make the analog phone work with our service. However, the most advanced phones today are SIP-based desk phones. Dynam solutions are compatible with these manufacturers:
Call us to get a free quote now